Blog&News
ENIM's "Evolution" "Deepening" × Evolution?
ENIMの"進化" "深化" ×進化?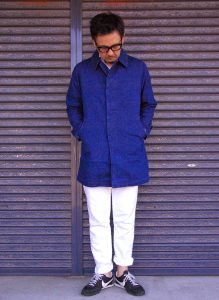 VINTAGE DENIM in the SHOW CASE of vintage clothing stores.
Although the price has gone down from the time of the boom, we still see price tags with hundreds of thousands of dollars attached.
Why is it worth so much?
In the world of textiles, new materials are being developed at an ever-increasing pace. High-tech nylon, down, and other materials can regulate body temperature and keep out rain, and the evolution in recent years has been spectacular.
However, when it comes to denim, there has always been a tendency for older denim to be considered more valuable.
Because it's cool.
Modern denim is often woven on high-speed looms and has a flat look, and the colors have become more intense due to the evolution of dyes.
Certainly, denim as an actual garment has evolved wonderfully and is a wonderful thing.
However, the denim we admire is not something that is wonderful in its own right.
We feel that denim is cool because we feel America in denim that was born as work clothes in an era when goods were scarce.
So we wondered if it would be possible to produce denim fabrics from this era of scarce supplies in today's wealthy era, when looms, dyes, and yarns have evolved.
That is where this project began.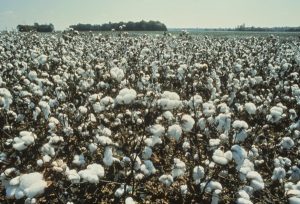 First, cotton from San Joaquin, U.S.A., is used.
Nowadays, only the cotton that blooms on the branches is harvested, but as in the days when supplies were scarce, even the cotton that falls from the branches and lands on the ground is collected and spun.
Therefore, impurities from the ground are also mixed in, albeit in minute quantities. This is why the fabric has a subtle irregularity when dyed in indigo and the texture of the weave is uneven.
Indigo dyeing also uses the same dye as in those days. This dye does not dye darkly at all.
However, nowadays, the management of water temperature and dyeing kilns has become more precise, so the dyes are inevitably dyed beautifully.
Therefore, it took a year of trial and error to achieve this color tone, and finally a satisfactory color tone was achieved.
The weft yarn is the same gray yarn used at that time to bring out the surface density.
This 10.5oz denim was used for work jackets such as coveralls back then.
F.O.B FACTORY does not want to make VINTAGE REPLICA.
This time, we produced TRENCH COAT with the aim of creating a new product that values the current mood of MEN'S WEAR.
It features an elegant A-line line that is not too casual, and while most overcoats have raglan sleeves, the front has set-in sleeves to give the appearance of a smart line.
Of course, the pattern makes it easy to raise and lower the arms when wearing a JK, but the best way to wear it is to lightly throw it on over a cardigan and let it wrap around the air.
This will allow the denim material to flourish and produce an indescribable denim sexiness.
Autumn is deepening.
It would be nice to go out to see the autumn leaves in this denim jacket.
F2313 DENIM TRENCH COAT  #28 (DENIM ONE WASH)・・・¥25,800(¥27,864)
F1141 RELAX COLOR DENIM 5P  #69 (WHITE)・・・・・・・・¥14,000(¥15,120)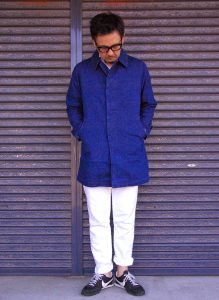 古着屋のSHOW CASEに並ぶVINTAGE DENIM。
ブームの時より値段は下がったとは言え、何十万と付いたプライスタグを見かけます。
なぜそこまでの価値があるのか?
繊維の世界でも日進月歩で新素材の開発が行われ、ハイテクのナイロン、ダウンなどは体温を調節したり、雨は通さず、ここ近年の進化は目を見張るものがあります。
しかし、デニムに関して言えば古いものが価値があるとされる傾向が昔からあります。
なぜなら、かっこいいから。
現代のデニムは多くが高速織機で織られ、フラットな表情で、色も染料の進化により濃度も濃く、中には色落ちもしないデニムもあると聞きます。
確かに、実衣料としてのデニムとすれば素晴らしく進化していて素晴らしい物です。
でも僕らが憧れた、デニムはその物性が素晴らしい物ではありません。
物資の乏しい時代に生まれた作業着として生まれたデニムにアメリカを感じ、かっこいいと感じるから。
そこで現在の裕福な時代で織機も、染料も、糸も進化した時代に、この物資が乏しい時代のデニム生地が作れないものか?
そこからこのプロジェクトは始まりました。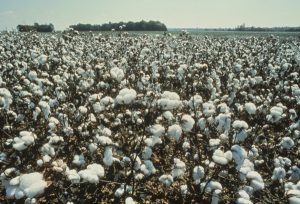 まず、アメリカ、サンフォーキン産の綿を使用します。
現在は枝の上に咲いた綿のみ刈取りしますが、物資の乏しい時代同様に枝から落ちて地面の上に落ちた綿まで採取して紡績します。
その為、地面の不純物も微量ですが混ざります。その為インディゴに染める際に微妙なムラや織る際の凹凸感が生まれてくるのです。
またインディゴ染めも当時と同じ染料を使用します。この染料は全然濃く染まりません。
但し現在は水温管理や染め窯の管理も精度が上がっている為、どうしても綺麗に染まってしまいます。
その為この色味を出すために一年掛かりで試行錯誤の結果、ようやく納得のいく色味に仕上がりました。
緯糸は当時と同じグレーの糸を使用し、表面濃度を出すために使用しています。
10.5ozのこのデニムは当時はカバーオールなどワークジャケットなどに使用されました。
F.O.B FACTORYではVINTAGE REPLICAを作りたいわけではありません。
MEN'S WEARの今の気分を大事に新しい物作りを目指し、今回はTRENCH COATを製作致しました。
カジュアル過ぎない、エレガントなAラインが特徴で、オーバーコートはラグランスリーブが多いですが、前身はセットインスリーブの切り替えにし、スマートなラインに見える様構築しています。
もちろんJKを着た場合も腕の上げ下げは行いやすいパターンになっていますが、カーディガンの上から軽く羽織って、空気を包むような着こなしが一番のおすすめです。
それにより、このデニムの素材感が栄え、何とも言えないデニムの色気を演出する事でしょう。
秋も深まってきました。
こんなデニムを羽織って紅葉を見に出掛けるのもいいですね。
F2313 DENIM TRENCH COAT #28 (DENIM ONE WASH)・・・¥25,800(¥27,864)
F1141 RELAX COLOR DENIM 5P #69 (WHITE)・・・・・・・・¥14,000(¥15,120)