Blog&News
F0288 VINTAGE TROUSERS
F0288 VINTAGE TROUSERS
Hello, my name is Isono and I am in charge of planning for F.O.B FACTORY.
My name is Isono, and I am in charge of planning at F.O.B FACTORY.
This time, I would like to talk about F0288 VINTAGE TROUSERS, which we are manufacturing as a standard product of F.O.B FACTORY.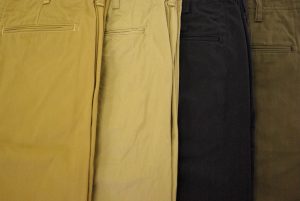 ▲42TAN 67BEIGE 28NAVY 14OLIVE
The chino material that abounds in the world today is flat and very beautiful.
However, the chino material we are looking for is not a beautiful material, but a material with warmth and three-dimensionality in its roughness that was used by the U.S. military during World War II, called 41KHAKI, which we saw at a vintage clothing store.
Therefore, we consulted with fabric specialists and analyzed the fabric.
First, the loom was adjusted to produce the same twill collapse (a state in which the surface of the fabric is slightly rough) as in those days, and Cameroon cotton, known as extra-long staple cotton, was used as the raw cotton.
The raw cotton is Cameroonian cotton, known as extra-long staple cotton, and the dyeing is done using the same slen dye (VATDYE) as at that time, which is hardly used nowadays.
After repeated trial and error, the waist point used for F0288 was completed.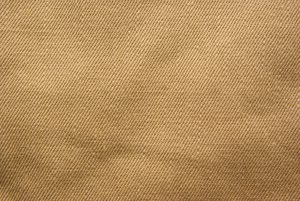 ▲Uneven look with twill collapse
Details were constructed based on vintage 41KHAKI trousers.
We aimed for a new, modern 41KHAKI.
The waist lining and pouch cloth are made of thick slubber.
Cotton tape is used for strength in the crotch lining, and tailor's back pouch cloth holding stitches are also used.
The back of the waist is sewn not with decorative stitching, but with the same chain stitching that was used in those days to create a puckering effect.
The silhouette was constructed from scratch and updated in a modern style to create a straight silhouette that is easy to coordinate.
Chinos have a rough texture and a somewhat elegant impression, but as mentioned above, these pants are made of a fabric dyed with VATDYE.
While the vat dyes are resistant to detergents, the color may fade due to friction.
Please wear them hard, wash them, and wear them.
These pants are to be grown up just like denim.
We hope you will enjoy the change in expression after one or two years.
F.O.B FACTORY F0288 VINTAGE TROUSERS
こんにちは。
F.O.B FACTORYの企画を担当しております 礒野 と申します。
今回はF.O.B FACTORYの定番商品として製作しておりますF0288 VINTAGE TROUSERSにつきましてお話しさせて頂きます。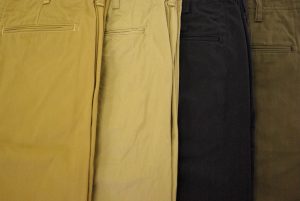 ▲42TAN 67BEIGE 28NAVY 14OLIVE
現在世の中に溢れているチノ素材はフラットで、大変きれいです。
但し、私達が求めるチノ素材はキレイな素材ではなく、古着屋で見た41KHAKIと呼ばれた米軍が第二次世界大戦時に使用していた、粗野感の中に温かみがあり、立体感のある素材です。
そこで、生地のスペシャリスト達と相談し、生地を分析。
まず、織機を調整し、当時と同じ綾崩れ(生地表面が少し荒れている状態)を起こさせ原綿は超長綿で知られるカメルーンコットンを使用。
染めには現在では殆ど使用されていない当時と同じスレン染料(VATDYE)を用いて染色。
試行錯誤を繰り返し完成したのがこのF0288に使用されるウエストポイントになります。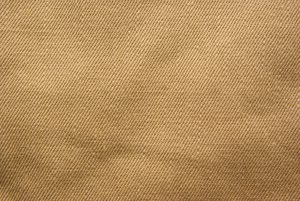 ▲綾崩れを起こした凹凸感ある表情
41KHAKIのビンテージのトラウザーを元にディテールを構築。
新しい現代の41KHAKIを目指しました。
腰裏や袋布は肉厚のスレキを採用。
股裏には力布としてコットンテープを配し強度を出し、テーラーでみられる後ろ袋布押さえステッチも配備。
ウエスト裏の腰裏の縫製は飾りではなく当時と同じ一気縫いのチェーンステッチでパッカリングを出しています。
シルエットは1から構築し現代風にアップデートしストレートシルエットのコーディネートしやすいシルエットに仕上げました。
チノはラフな風合いを持ちつつどこか上品な印象もありますが、このパンツは先述の通りスレン染料(VATDYE)で染められた生地です。
スレン染料は洗剤に強い反面、摩擦による色落ちがあります。
是非ガシガシと穿いて、洗って、着込んでください。
このトラウザーはデニムと同じ育てるトラウザーなのです。
1年後、2年後の表情の変化を楽しんで頂けたらと思います。
F.O.B FACTORY F0288 VINTAGE TROUSERS