Blog&News
F3379 WORK SHIRTS
F3379 WORK SHIRTS
f3379 work shirt product
We wanted to reproduce the unevenness seen in BIC MAC chambray shirts of the 60's. That's how we started this PRODUCT.
This is where this PRODUCT started.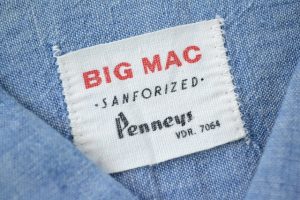 The fabrics of the time had few supplies, and it seems that the cost was reduced by using more raw weft yarns rather than using more dyed warp yarns. (This is just a guess…)
This time, we made a square cross (the number of warp and weft yarns are the same).
The raw cotton used is American cotton, 20/- x 20/- (single count 20 yarns).
The first task was to create a shiny and uneven texture, and we succeeded in doing so by utilizing the shrinkage of the yarn, which is known as "re-firing", or loosening the twists of the yarn.
Of course, the fabric of those days is the same, but they did not aim to produce it, but it is a product made by chance.
The best square cloth has been revived in the present age by processing washers with the fabric.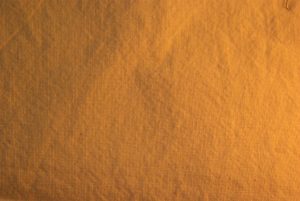 ※Warm light is shined from the side to show the fabric texture. The original color is pure white.
F.O.B FACTORY has produced B.D SHIRTS, CUTWAY SHIRTS, and WORK SHIRTS in this material.
F3379 WORK SHIRTS are full of vintage details, but we were particular about the pattern making of the silhouette.
It is a classic, durable fabric, and the silhouette cannot be unfashionable for years of wear.
While orthodox in style, it also incorporates the essence of modernity and has a silhouette that gives the impression of being smart, despite being a work shirt.
The collar is small, the hem line looks good even with pants out, and the sleeve width is narrow.
The shoulders are also constructed three-dimensionally.
The details are based on the authentic 60's 2-pocket work shirts, with a 5mm narrower than usual rolled stitch and finer needle counts.
The work specs of the ring stitch specification of the made front placket as well as the empty ring finish.
The box pleats at the center of the back and the Kemboro button station also add modern details to the mix.
The difference is obvious because it is a white orthodox shirt.
This shirt is very tough and can be worn for many years.
It is a shirt that will grow with the wearer as well as change over time.
F3379 WORK SHIRTS
F3379 WORK SHIRT PRODUCT
60'SのBIC MACのシャンブレーシャツに見られた凹凸感を再現したい。
そこからこのPRODUCTは始まりました。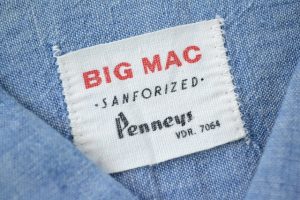 当時の生地は、物資も少なく経糸の染めた糸を多く使用するより緯糸の生成りの糸を多く使用する事でコストを下げている様に思います。(予想ですが…)
今回のこの生地はそこから、スクエアークロス(経糸、緯糸の打ち込み本数が同じ)に仕上げました。
原綿は米綿を使用し、20/-×20/-(20番の単糸)で構成。
また最初の課題のシボ感、凹凸感は改燃と言われる、糸の撚りが緩む事を利用して糸の縮みを利用して、凹凸感を出す事に成功しました。
勿論、当時の生地も同じですが、彼らは狙って製作したわけではなく偶然出来た産物です。
生地にてワッシャー加工を行い最高のスクエアークロスが現代に蘇りました。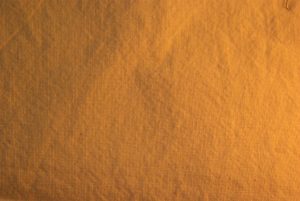 ※生地感を見て頂く為、横から暖色系のライトを当てています。本来の色はピュアホワイトです。
F.O.B FACTORYはこの素材で、B.D SHIRTS、CUTWAY SHIRTS
WORK SHIRTSと製作しています。
F3379WORK SHIRTSはビンテージディテールも満載ですがシルエットのパターンメイクに拘りました。
定番で、生地も丈夫、長年着用して頂くためにシルエットが格好悪いわけにはいきません。
オーソドックスなスタイルながら、現代のエッセンスも取り込み、ワークシャツながらスマートな印象のシルエットに仕上げました。
衿は小さめ、着丈もパンツアウトの状態でもきれいに見える裾のライン、袖巾を細目に製作。
肩の収まりも立体的に構築しています。
ディテールは60'Sのオーセンティックな2POCKETワークシャツをベースに、通常よりも細い5mm巾の巻き縫いで運針を細かくしたデーテールを踏襲しています。
空環仕上げは勿論、作り前立ての環縫い仕様のワーク仕様。
背中心のボックスプリーツやケンボロにも釦を配し現代的なディテールもMIXしています。
白いオーソドックスなシャツだからこそ違いが歴然とあります。
このシャツは非常にタフで何年も着て頂けます。
経年変化は勿論、着る人と共に育っていくそんなシャツに仕上がりました。
F3379 WORK SHIRTS