Blog&News
F0431 BAKER PANTS
F0431 BAKER PANTS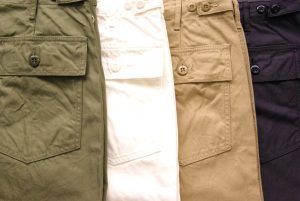 ▲#14 OLIVE #69 WHITE #42 BEIGE #28 NAVY
BAKER PANTS also known as FATIGUE PANTS or UTILITY PANTS
These pants were used by the U.S. military for work purposes.
It is said that they were called "BAKER PANTS" because cooks wore white ones with the same design. (There are various theories).
F.O.B FACTORY is not a replica manufacturer that makes the same products as those of the past.
(We do not make clothes with designs that have never been seen before, but rather pay homage to the good old things that impressed us at vintage clothing stores, aiming for the best in fabrics, sewing, processing, and materials, and incorporating modern fashionable styles into the silhouettes and details).
In making the F0431 BAKER PANTS, we have taken what we think is cool from various BAKER PANTS of various eras and mixed it with details.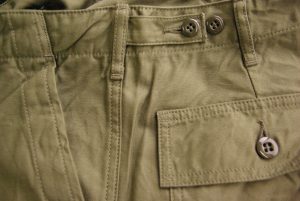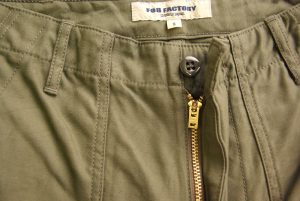 The front opening, a detail from the 1970s, has been made into a zipper to make it easier to put on and take off.
Also, since the 70's, BAKER PANTS of old clothes have been mass-produced, and cost reduction and simplification of details have been seen, the material has become a polyester blend, sewing specifications have increased with less time-consuming lock finishing, and both flaps and pockets have been changed from W-stitching to single stitching.
We still think that the coolest items are those made before the 1960s.
F0431 is the original 100% cotton back satin, and the detailing follows the pre-1960s two-stitching with rolled stitching on the inner thighs and side sides.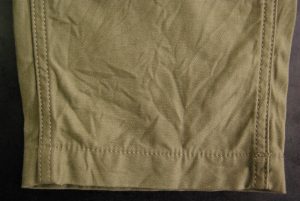 Why.
It is a detail to create the look of the pants after 2 or 3 years of wear.
As for the aforementioned original back satin fabric, the color of the military color O.D (olive drab) has been changed to OG-107 (olive green – color code 107 for the U.S. military) since the early 50's. The color of the original back satin fabric has been changed to OG-107 (olive green – color code 107 for the U.S. military) since the early 50's.
OG-107 (olive green – U.S. military color code 107).
The color of OG-107 at that time was dyed and produced with the same slen dye (VATDYE) as at that time.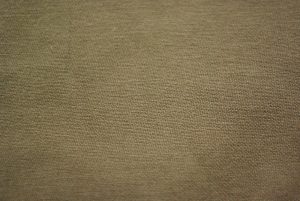 ▲VATDYE BACK SATTIN
While slen dyeing is resistant to detergents and does not fade, it has a characteristic of being a little weak in terms of fastness to rubbing. This is the reason why you can see only the bite of the base color remaining in the military vintage clothes of this period. 99% of modern fabrics are dyed with reactive dyes, so this phenomenon does not occur.
(Reactive dyes can be easily adjusted to produce any color. (Reactive dyes are easy to adjust and can be used to produce any color. Slen dyes are rarely used for clothing today because they are difficult to produce dark colors, and even skilled craftsmen have trouble with them.)
We made this fabric in the hope that you will be pleased with it after a couple of years of wear, and sewed it with a lot of rolled seams, which tend to cause puckering.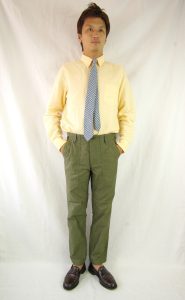 Also, the silhouette is completely different from the old BAKER PANTS, with a narrow straight line that forms a gently tapered silhouette without being too deep or shallow in the crotch.
These pants can be used all year round in terms of material.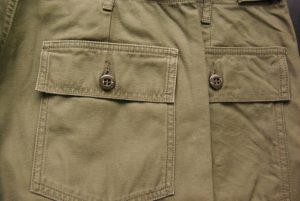 ▲Left side worn 2 years, right side new
I think it is interesting to "secondhand clothes" that you bring up once.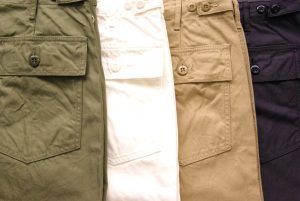 ▲#14 OLIVE #69 WHITE #42 BEIGE #28 NAVY
FATIGUE PANTSやUTILITY PANTSとも呼ばれるBAKER PANTS
米軍で作業用に使用されたパンツです。
同デザインで白色の物を調理員が穿いた事からBAKER PANTSと呼ばれたとも言われています。(諸説ありますが)
F.O.B FACTORYは当時と同じものを作るレプリカメーカーではございませんので、スタンスとしましては、旧きを知り、現代のファッションとしてのスタイルを大事に製作する。
(見たことないデザインの服ではなく、古着屋で感動を覚えた旧き良き物をオマージュし生地、縫製、加工と素材の中での良い物を目指し、現代のファッションとしてのスタイルをシルエット、ディテールに落とし込む)事を主としております。
今回のF0431 BAKER PANTSを製作するにあたり、色々な年代のBAKER PANTSから私達がカッコいいと思えるものをディテールミックスさせています。
まずベースは60年代のBAKER PANTSをベースに製作。
ウエストサイドアジャスター付き。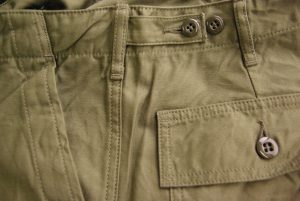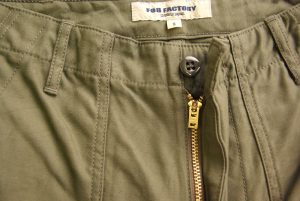 70年代からのディテールのフロントの開きをZIPPER仕様にして着脱を容易にしています。
また古着のBAKER PANTSは70年代から大量生産による為か、コスト削減やディテールの簡素化が見られ、素材がポリエステル混になり、縫製仕様も手間がかからないロック始末が増え、フラップ、ポケット共、Wステッチからシングルステッチに変更されたりしています。
やはり私達がカッコいいと思えるのは60年代以前の物になります。
F0431は綿100%のオリジナルバックサテンで、ディテールは60年代以前の内股、脇側とも巻き縫い仕様の2本ステッチを踏襲しています。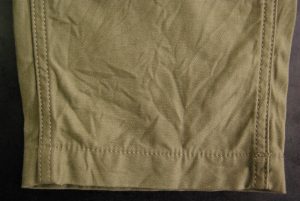 なぜか、
それは穿かれてから2,3年後のパンツの表情を作り出すためのディテールであります。
先述のオリジナルバックサテンの生地の方ですが50年代前半以降 O.D(olive Drab) オリーブドラブと言われていたミリタリーカラーの色が OG-107(オリーブグリーン -米軍のcolor code 107)
に変更されました。
その時のOG-107の色味を当時と同じスレン染料(VATDYE)で染め製作した物になります。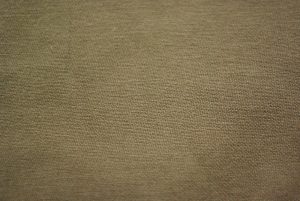 ▲VATDYE BACK SATTIN
スレン染めは洗剤に強く、色落ちしない反面、摩擦による堅牢度が少し弱い特性があります。この頃の年代の軍物古着に見られるベースの色は残っているのにアタリだけ見られるのはこの為で、現代の生地の99%は反応染料で染められている為この現象はおこりません。
(反応染料は色の調整が容易で、好きな色が出せます。スレン染料は濃色の色出しが難しく、熟練の職人でも手を焼く為、衣類では現在、殆ど使用されません。)
穿かれて、2,3年後に喜んで頂きたく、この生地を製作し、縫製ディテールはパッカリングの起こりやすい巻き縫いを多用しました。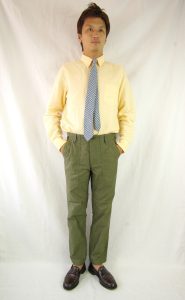 またシルエットは古着のBAKER PANTSとは全く違い、股上も深すぎず浅すぎずに緩やかなテーパードシルエットを形成するナローストレートラインです。
素材的に一年中使用できるパンツです。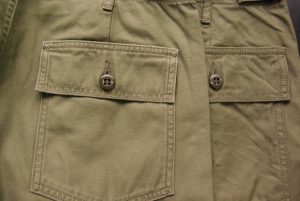 ▲左側着用2年 右側新品
一度自分が育てる"古着"も面白いと思います。