Blog&News
F.O.B FACTORY G3 denim
F.O.B FACTORY G3 denim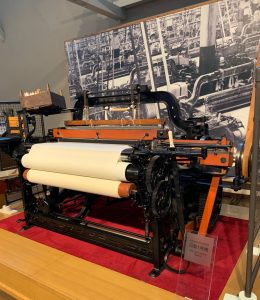 ▲At Toyota Museum in Nagoya, Japan
G-type loom developed by Toyoda Automatic Loom in 1924
It can supply weft yarns and weave without stopping.
It was a revolutionary loom at that time, and was exported to the world.
The G3 loom, the third generation of the G-type loom, is almost nonexistent in Japan or anywhere else in the world, and as far as I know, there are only about 10 G3 looms in existence.
We discovered that there were G3 looms that could weave denim and craftsmen who could operate G3 looms at a loom shop in Ibara City, Okayama Prefecture, and we set out to produce F.O.B FACTORY's original G3 denim.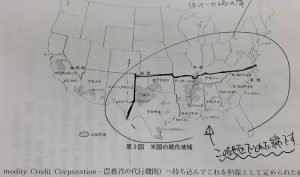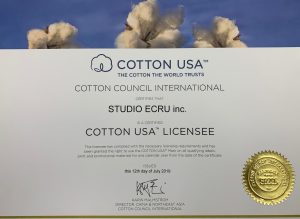 ▲Left: Cotton production area / Right: COTTON USA certification
First, the most important part of the fabric is the raw cotton.
There are various cotton origins around the world, but our philosophy is that jeans are made in the U.S. Therefore, jeans made in other origins are considered to be of high quality, regardless of whether they are made of high quality or extra-long staple fibers (it is difficult to say, but the longer the fiber length, the higher the quality). ) However, it is not necessarily true that the cotton made in other production areas is of high quality, whether it is high quality or not, and whether it is extra-long cotton or not. We then asked ourselves, "What is the best way to use this type of yarn? We chose American cotton (U.S. cotton), and ordered "San Joaquin cotton," which is one of the highest quality cotton in the United States.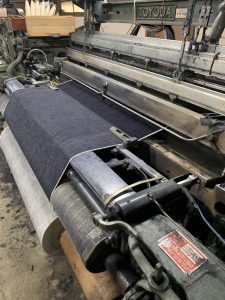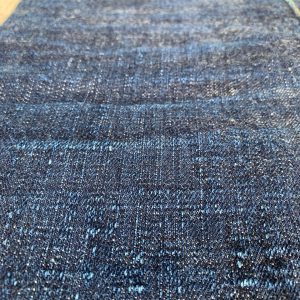 ▲Left: G3 power loom that wove F.O.B original G3DENIM
Right: The look of F.O.BFactory's G3DENIM
Rope dyeing was done at a factory in Okayama, Japan, using pure indigo, dyed to a deep deep blue, and a satisfactory yarn was completed.
The reason why using G3 loom is so good is that it can weave with extremely low tension. The warp threads are adjusted with weights, and the weft threads are woven on a power loom, so of course shuttles are used to weave back and forth.
It is a very inefficient operation, but when weaving on this low-tension G3, an unevenness similar to that of hand-woven fabric appears.
The G3 is the only power loom that can express this unevenness and rough texture.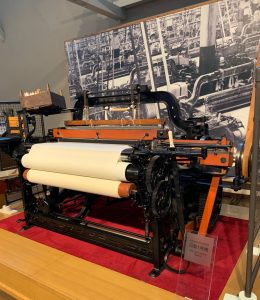 ▲名古屋市のトヨタ博物館にて
豊田自動織機が1924年に開発したG型織機
停止することなく緯糸を補給して織る事が出来る
当時、画期的な織機で世界に輸出された名機である。
G型の3代目にあたるG3型織機は日本は勿論、世界にも殆ど残っておらず、私の知る限り10数台しか確認出来ない。
岡山県井原市の機屋にデニムを織れるG3織機とG3を操る事の出来る職人が存在することを発見した私達は、F.O.B FACTORYのオリジナルG3デニムを製作することに着手した。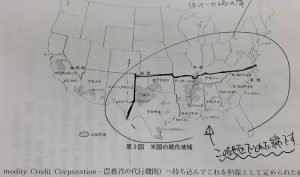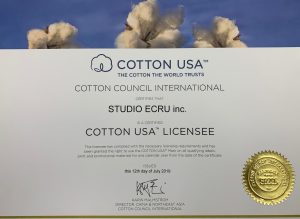 ▲左:米綿の生産地/右:COTTON USA 認証
まず、生地の一番大事な部分である原綿である。
世界各国に様々な綿の産地が存在するが、我々の哲学であるジーンズはアメリカで製作されたものであるがゆえに、他の産地で作られたものは、物が上質であろうが、超長綿であろうが(一概には言えないが繊維長の長いものが上質とされる。繊維長が短いものはその分、撚り回数を増やさないと一本の糸にならない為、硬くゴワゴワとした風合いになりやすい為。)使用するのは如何なものか?という所からアメリカコットン(米綿)を選び、アメリカの産地の中でも、上質な綿の産地"サンフォーキン綿"を取り寄せた。
またCOTTON USAの認証を取りこのデニムがアメリカコットンを100%使用した物である事を認定している。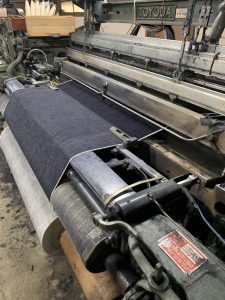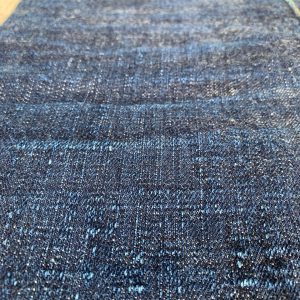 ▲左:F.O.B オリジナルG3DENIMを織ったG3力織機
右:F.O.BFACTORYのG3DENIMの表情
ロープ染色は岡山の工場で、ピュアインディゴを使用し、深みのあるDEEP BLUEに染め
満足な糸が完成した。
さてなぜG3の織機を使用する事が良いものか、という点だが、これは1点、極めてローテンションで織る事ができる点である。
現在の大量生産品は高速織機では考えられない、縦糸を重りのグラムで調整し、緩やかにはり、緯糸は力織機なので当然シャットルが往復する。
1日フル回転で織り上げる事が出来るのはたった40yard前後である。
非常に不効率な作業だが、このローテンションのG3で織ると、手織りに近いような凹凸が現れる。
この凹凸感とザラザラとした手触りが表現できる唯一の力織機がこのG3なのである。